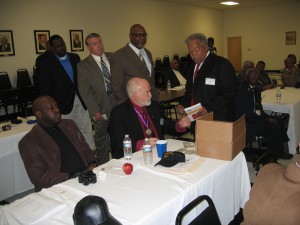 The third day of the Phylaxis Society Convention in Arkansas was one of much celebration and fellowship but also one of some very interesting presentations.
A paper was delivered on A Black History Moment: A Phillip Randolph and the Sleeping Car Porters. Ah, the memories of those early railroad years brought back to real life in the story of sleeping car porters was fascinating and nostalgic.
Another paper was "The Reciprocal Effects of Illinois Abolitionists on Society."
The paper which I will comment on in detail was The Masonic and French Connection of the American Mystery Tradition by Dr. Robert Uzzel.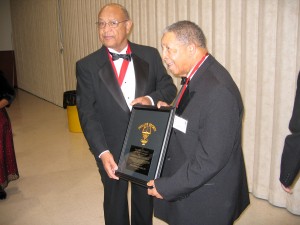 Brother Robert L. Uzzel is a very interesting Mason.  He possesses a BA in Religion and Sociology, a Masters in Church-State Studies, a PHD in World Religions along with graduate work in Political Science. He teaches college courses in Religion, History and Political Science while at the same time he is Pastor of an A.M.E. Church – college professor, ordained minister, active Freemason and also a noted author.  He is a Fellow of the Phylaxis Society, holder of the Dr. Charles H. Wesley Medal of History and a Blue Friar. Just the sort of fellow I like to pick the brain of.
His presentation was based on his book "Eliphas Levi and the Kabbalah" which I got an autographed copy of after the lecture.
Uzzel says that he chose to write about Levi because it all starts and ends with him.  Uzzel tells us Levi was a major source of Albert Pike's "Morals & Dogma."  He also explained that Levi drew a comparison between Tarot Cards & the Kabballah.
But Levi's influenced stretched much further and wider according to Uzzel.  The Hermetic Order of the Golden Dawn in Great Britain claimed Levi as its inspiration. Crowley also claimed kinship with Levi.
Theosopohical Society founder Madam Blavatsky admitted to being influenced by Levi, Uzzel expounds.  And the Levi also was a big influence on the Rosicrucians.
All this and more made a fascinating lecture on a subject I needed to know more about.
Noon time saw us gather for a Phylaxis Society Luncheon with all the Phyllis Chapters with us. It was a mini awards luncheon with the big awards coming that night at dinner. Presentations were made to winners of the 4B awards – Books, Business, Ballots and Brotherhood.
After lunch we were all honored with a Grand Master's Forum where presiding Grand Masters took the hot seat and we peppered them with any and all questions.
Late in the afternoon we all retired to our hotels to freshen up and then return for the  Annual Awards Banquet. The major awards given out were the Chapter of the Year, Man of the Year, Brice E. Simmons Award and the John. G. Lewis Medal of Excellence.  The keynote speaker was Arkansas Governor Mike Beebe.
After all the ceremonies were over many of us gathered in groups and took pictures, exchanged contact information and parted with that embrace of fellowship that so endears the heart.