Too many leads to a bureaucratic nightmare.
BRYCE ON MANAGEMENT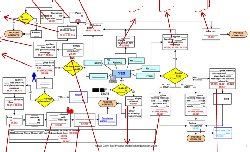 When I first started in the work force, I asked my boss about the scope of my responsibilities. He simply told me to go as far and hard as possible. If I started to wander out of bounds, he would reign me in. This worked remarkably well. I quickly discovered the boundaries of my job and which ones not to cross. Rarely do you find such companies anymore, even small businesses. The work place is now organized into small boxes which defines the duties and responsibilities of just about everything. Whether you are in business or participate in a nonprofit organization, there seems to be more of these "boxes of rules" emerging, and they are inhibiting our ability to get things done. I'm not sure where this mindset came from. I can only suspect unions, who only perform no more than what is inside the box, influence this type of thinking; government likewise.
Laws, rules and regulations are written for those who will violate them, not people who will adhere to them. I learned this lesson when writing corporate policy manuals specifying the "Do's" and "Dont's" of the business. Such manuals are common in big companies, yet are equally beneficial in a small business with just a handful of employees. It takes no more than one employee to misinterpret the rules, either deliberately or accidentally, thereby triggering a lawsuit.
The ISO 9000 family of standards also encourages boxes of rules by documenting the many business processes in an organization, thereby providing sufficient instruction even a novice worker can follow. Such instruction may be useful for training purposes and for establishing the criteria for quality work products, but beyond this, they can become rather bureaucratic. I question the wisdom of doing virtually everything "by the book." It seems to me, this would restrain people, stifle creativity, inhibit innovation, and promote more of a robotic existence in the workplace. It would also inevitably lead to a corporate culture of micromanagement whereby managers spend more time supervising as opposed to managing. In talking with employees faced with such boxes, they claim it has a tendency to discourage productivity and corporate loyalty by creating a tedious bureaucracy. Basically, they feel restrained by trying to operate with one armed tied behind their back.
Our "PRIDE" Methodologies for IRM were packaged as a manual, yet they were never meant to be a paper mill used to drive the process of designing and developing information resources. Unlike other paper-driven methodologies, we touted "PRIDE" as a philosophy of management; a way of looking at a business and its systems. This is why we referred to it as, "Software for the finest computer – the Mind." In the end, it is people that make things happen, not books.
Frankly, I think we need more people with common sense as opposed to inanimate objects doing the thinking for us. Documentation has its place, but the tail need not wag the dog. Frankly, I prefer managers who challenge and embolden their workers to strive higher, as opposed to supervisors who sit over their employees with a whip and a chair. Companies need to learn to manage from the bottom-up, not just top-down, and treat employees as professionals, not robots. Only when we learn to manage more, and supervise less, can we begin to dispense with the boxes of rules.
There is a fine line in terms of the amount of rules and regulations needed to be documented in a company. There is always a need for a little wiggle room. It ultimately depends on the intelligence level and morality of the employees. Dolts need lots of rules, your better employees, who accept responsibility for their actions, do not. Personally, I prefer the sharp manager who tells me to go as far and hard as possible.
Keep the Faith!
Note: All trademarks both marked and unmarked belong to their respective companies.
For Tim's columns, see:
timbryce.com
Like the article? TELL A FRIEND.
Copyright © 2013 by Tim Bryce. All rights reserved.