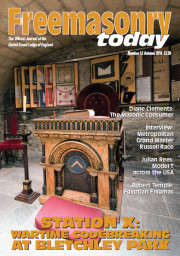 The latest issue of Freemasonry Today, the official journal of the United Grand Lodge of England, contains an article on the Bordeaux Conference. This was a three day gathering at the University of Bordeaux III and the Museum of Aquitaine in Bordeaux held in July of this year.
The theme of the conference was Women and Freemasonry Since The Enlightenment and Freemasonry Today tells us that it was organized by:
"The conference was organised by Professor Cécile Révauger of the University of Bordeaux III with the support of the Regional Council of Aquitaine, the University of Paris IV Sorbonne and the French National Centre for Scientific Research (CNRS), the University of Rome (Sapienza), the Free University of Brussels, the University of Sheffield and the University of California, Los Angeles (UCLA)."
The conference's first presentation was by UCLA Professor of History, Margaret Jacob, certainly no stranger to regular readers here on Freemason Information.  She brought all up to date on the latest findings concerning women's Freemasonry in its earliest stages of Europe in the 1700s.
And right behind Jacob was a presentation of the female Masons in the French Royal family before the French Revolution delivered by Dr. Janet Burke, associate Dean of Barrett College, Arizona State University. It was revealing to all when Burke informed the conference that Josephine Bonaparte became the head of French female Freemasonry.
Freemasonry Today goes on to lament the fact that women in Freemasonry are not considered serious Masonic research in the British Isles and goes out of its way to mention the other Brutish scholars who made presentations – Diane Clements, Susan Snell, Dr. Robert Collis, Dr. Robert Peter and Professor Andrew Prescott. As this is an official publication of the UGLE, perhaps the Grand Lodge sentiment across the channel is shifting to a more benign attitude towards female Freemasonry and Co-Masonry. One can only speculate what winds of change might drift across the Atlantic to place American female Freemasonry in a more acceptable light.
What can be said is that author Brother Karen Kidd is working diligently on a new book which will be the subject of further enlightenment as soon as Freemason Information receives a copy.
In the meantime I am reminded of this poignant axiom – Nothing stays the same, change is always happening.