Thomas Jefferson had long desired to have the lands west of the Mississippi explored with the hopes of finding a waterway passage to the Pacific.  The Lewis & Clark expedition was the brainchild and pet project of Jefferson.  He plucked Meriwether Lewis from his staff and put him in charge of leading this exploration. Lewis picked William Clark to be his co-captain on the journey.
Lewis was a Mason having been made such in Virginia in 1797. It has been thought by Historians that Clark was recruited by Lewis to join the Craft on the expedition. We do know that Clark joined a Lodge in St. Louis at a later date.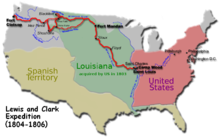 The expedition, 1804-1806, took some 2 ½ years and covered approximately 7,200 miles. Lewis & Clark brought back a large set of journals along with samples providing detailed information on species of animals and plants, geography, cultural observations, Indian tribe information, climate and some 60 maps. While they did not find an all waterway passage to the Pacific they did explore routes and alternatives for a Northwest Passage.
Historians count this expedition which immediately followed the Louisiana Purchase as a very important event in the history of the United States. Among other things it paved the way for westward expansion and the territorial claims of the United States from coast to coast.
Much has been written about the Lewis & Clark Expedition many times over so there is little need for repetition here. Rather the focus of this article will deal with the unknown, or more accurately the little known, its importance to the success of the mission and the historical lesson it has for us.
The expedition was undertaken by some 29 regulars along with 16 others. Much of the travel was in areas never chartered or explored, among the habitation of many different Indian tribes, some of whom were hostile. How is it then that these 45 explorers trekked all those miles, during all that time and meeting many new and strange tribes yet recorded only one fatality that being of Sergeant Charles Floyd who was thought to have died from a ruptured appendix?
That is the story of the video here which in some detail will explain that Lewis brought with him the cutting edge of technology for that time, the Girandoni Air Rifle. My friend, Brother Mason and historian from Canada has supplied us with his take on this rifle.
"Interesting technology. The gun had some drawbacks – it took 1500 strokes of the air pump to re-charge the air bottle, and the shape at the back was not easy for the human shoulder to "sit" with. In Austrian use each soldier, it is said, carried two spare, already charged, air bottles. Later, again in Austrian service, there was a larger compressor on wheels that accompanied the army."

"The air bottles themselves were difficult to manufacture with the metal, rivets and brazing technology of the time, and sometimes leaked because of the air pressure of up to 800 psi. Still, the ability to fire about 30 rounds without re-loading, with little noise and no smoke, and with enough power to seriously injure or kill was an enormous advantage."

"The ammunition was a gravity feed, so the rifle had to be elevated before each round. The fact that Austrian forces issued the weapon and used it in combat makes it the first repeating rifle to be so used in history. "

"Apparently the mechanism was very delicate, and the rifle could easily break down for that reason. It is said certain seals had to be kept moist at all times. I still do not understand how the system regulated the exact charge of compressed air necessary for each shot."

"I guess its remote descendant was the famous Daisy Air Rifle we all knew as children."

"For the time, however, it would truly be seen as a wonder weapon, as it was."
History often has for us some valuable lessons.  If Hitler had studied Napoleon's disastrous march into Russia, if he had learned from history, perhaps he would not have repeated the same mistake.
The fact that we now know that the success of the Lewis & Clark Expedition can be partially attributed to adopting the latest technology perhaps has something to tell us about modern day Freemasonry.
Perhaps Grand Lodges have only themselves to blame for the steep decline in membership. Maybe there is nothing wrong with the message it's the messengers. The question posed is this: Where would Freemasonry be today if in the early 90s it had adopted the latest technology to help convey its message? What if the Craft had embraced computer technology that far back and had been keeping abreast of all the changes to date? Where would we be right now if that had been done?  Let's take a look at three areas.
PUBLICITY &MARKETING
Today we would see huge interactive Grand Lodge websites that would include forums, ask a question and get an answer areas, You Tube videos geared to explaining Freemasonry to the uninitiated, A Grand Lodge Facebook page and a Grand Lodge Twitter account for starters.
EDUCATION & INFORMATION
There might be in place today a complete Grand Lodge library search by computer, scanned books available on line, E-Books also available, videos that provide instruction and information, Masonic courses on line, a Grand Lodge radio show on line, proficiency instruction and proficiency testing on line and many more items.
ADMINISTRATION
Today all Grand Lodge forms and reports would be available on line and filed on line, computerized minutes, interactive calendars, special events, addresses by the Grand Master, memos and even Business meetings could be held on line.  All material could easily be encrypted. Grand Lodges might have their own server system or the latest in cloud technology.
The failure of Freemasonry to keep up with the times, to forge ahead boldly employing the latest technology and to structure the message into the forms of communication that are used by today's generation is the failure to heed the lessons of history and to profit therein. Kodak declined because it didn't't see the merit in digital cameras, IBM an early powerhouse gave way to Microsoft. There are many examples of organizations and companies going under because they refused to adapt. Adapting to new ways of doing things is seen in Freemasonry as changing Freemasonry. It is not. The Drive In Movie is a relic of the past.  But movie making and movie viewing thrive on using different methods of deliverance.  And that's the way Freemasonry should go.  Be a Meriwether Lewis and be a leader breaking new ground, forging new paths and setting the standard for greater performance.