Masonry helping the community, a subject near and dear to me especially given its taking shape in California.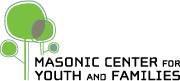 The Masonic Homes of California today announced the opening of the Masonic Center for Youth and Families, a not-for-profit, outpatient facility that will provide integrated psychological services to youth ages 4 to 17 struggling with behavioral, academic, emotional, or social difficulties.
"Existing resources to help young people are strained and at times limited. The Masonic Center for Youth and Families is one of the few centers in the nation to bring together testing, assessment and treatment services under one roof,"
says Steffani Kizziar, executive director.
The center, located in San Francisco's historic Presidio, is now accepting clients. Youth and families are eligible to receive services, which include:
Comprehensive assessment of the youth through cognitive, personality, and neuropsychological tests as well as interviews with the parents, teachers, and other individuals for additional insight
Psychodynamic psychotherapy, family therapy, and couples therapy treatment delivered through individual and group therapy and analysis
Comprehensive treatment management during and after care
"As professionals, we have witnessed attrition and oversimplification of needed services for children and adolescents," says Dr. Terrence Owens, clinical director. "We are steadfast in our commitment to provide young people and their families the help they need and address psychological difficulties in a complex, comprehensive and thorough manner."
Many of the staff professionals are nationally and internationally recognized leaders in various disciplines of the mental health field. The center's integrative model of multidisciplinary collaboration among the clinical professionals provides the benefit of multiple perspectives for each client.
Each member of the center's clinical staff holds advanced degrees and licenses and has an average of 20+ years of experience. Besides Dr. Owens, clinical director, key staff includes Philip Erdberg, PhD, research and assessment director, and Michael Bronzo, MD, medical director.
Charitable funding provided by the Masons of California allows the Masonic Center for Youth and Families to offer accessible treatment and flexible payment options. The center reviews each potential client on a case-by-case basis to ensure that all in need receive treatment, regardless of financial limitations.
"Our organization has been an advocate for youth and seniors for more than 110 years," says Melvin Matsumoto, executive vice president of the Masonic Homes of California. "The founding of this center demonstrates our commitment to helping young people feel understood and empowered to realize their potential."
For more information about the Masonic Center for Youth and Families, including the application and treatment process, visit www.mcyaf.org.
The center, from theirwebsite, says of its service:
The Masonic Center for Youth and Families is a place where young people who struggle with behavioral, learning, and psychological problems can unlock their full potential.

We form a complete picture of the young person's life: how cheerful she is in the morning and how difficult her tantrums can be. That his report card shows Cs, but he invented a new axle for a truck when he was five. Then we base our treatment on what we learn.

We help young people find their voices, and then themselves.
This sounds like a terrific asset to the Golden State, and I'm really glad to see Masonic relief action.