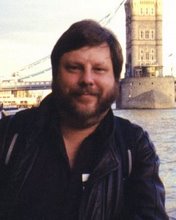 Author of the books Solomon's Builders
and Freemasons For Dummies
and one of the strong voices for American Freemasonry today, Brother Chris Hodapp joins us on Masonic Central on November 23, 2008.
Br. Chris has been a tireless worker for the fraternity in print, as well as in his blog Freemasons for Dummies, and in lodge being one of the founders of the one of the early Traditional Observance Lodges, Lodge Vitruvian and most recently as the editor-in-chief of "the Masonic Society" journal. Chris has made great strides in making Freemasonry accessible to an increasingly curious public all while, he chides in his blog, he is looking for a "more suitable host body…"
This is going to be a fun and informative show and with a lot of insight into the world of the would-be "Dummy" of Freemasonry who is anything but.
This show originally aired Sunday, November 23rd, 2008.
Download this episode with Chris Hodapp here.