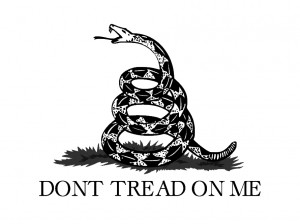 This is the second article in a two part series on how Masons believe that Freemasonry should be governed. If you haven't read the first article, please read it here. There are essentially two schools of thought when it comes to how Freemasonry operates: collectivism and individualism. These are obviously the two extremes in the spectrum of Masonic philosophy. All Masons who are active in some aspect of the craft have adopted ideas from at least one of these philosophies and in order to understand modern Freemasonry, it is necessary to discuss these opposing ideals and how they relate to Freemasonry. These articles are the opinions of the author of this column, but they are presented so that Brotherly discussion about this subject may take place.
Masonic individualism is the philosophy by which every Mason pursues his own interests in Masonry. Individualism as a philosophy is defined as "the doctrine or belief that all actions are determined by, or at least take place for, the benefit of the individual, not of society as a whole."1 Individualism allows for every Mason to have his own goals and directions. It relies on the peculiar strengths of each individual Mason in order to improve each other and through this process, the society becomes stronger.
When a man becomes a Mason, he is professing his belief in the individualist idea of self improvement.
That I might travel in foreign countries, work and receive Master's wages, being better enable to support myself and family, and contribute to the relief of poor, distressed, worthy Brother Master Masons, their widows and orphans." (Emphasis added)
The Mason is only asked to serve the fraternity in such a manner that its reputation may be upheld; the degrees regard the Mason only as an individual. This is because only a strong sense of individualism can serve to make a good man better and make the rough ashlar into a perfect ashlar.
The individualist Mason partakes in Masonry as much as his personal finances allow. He decides what the worth of his membership is and will decide for himself whether to sacrifice his other luxuries for his Masonic involvement or discontinue his membership. He does not expect the work of others to be modified for his needs. He refuses to deny the ego of man and is unapologetic about the elite nature of the Masonic fraternity. The individualist does not demand that the efforts of others in the fraternity be diminished in order to make him feel as an equal.
Individualism allows every Brother to pursue Masonic education as he wishes and to be distinguished by his particular studies. This concept realizes that some Masons may be the teacher while others may be the student. It encourages the individual to satisfy his own philosophical needs without regard for the interests of others. It allows the individual to accept or ignore the educational products created by other Masons and encourages educational presentations within the lodge because it accepts the individual nature of such a performance.
The individualist Mason desires to contribute to charity on his own terms and to the cause of his choice, regardless of the feelings of the other Brethren. He will create his own charitable endeavor if he desires to do so. He will accept the contributions of others, but only if it satisfies his intent. The individualist does not require the support of the masses for his charitable cause and will pursue his philanthropy with or without the assistance of others. He partakes in charity not for the good of the people, but to satisfy his own conscience.
Individualism dictates that Masonic leaders should be chosen by their individual merits. It requires that they possess leadership qualities in order to gain any sort of authority. This philosophy requires that Masonic leaders pursue the goals that they feel best as a leader, but it also requires that the leader does not encroach upon the pursuits of other individuals. It requires a working agreement of mutual respect between leaders and the individual Masons, but it demands that neither is forced into a form of servitude.
Masonic individualism requires that the Mason becomes the creator of the fraternity. It does not care where his Masonic pursuits take place or what they are as long as they maintain the reputation of the fraternity. It dictates that Masons should not be concerned with the opposition of those within or without Masonry. Because the individualist pursues his Masonic endeavors for his own pleasure, the disapproval of Anti-Masons is of little concern to him. He wishes to neither pay attention to them nor dispute their claims. He does not require the approval of others to feel that his individual goals are worth his time and dedication.
Masonic individualism creates a stronger fraternity. It enables each man to grow as an individual by pursuing his own interests and utilizing his peculiar talents. This fabric, woven with the strong threads of individuals, becomes a beautiful tapestry which intrigues and attracts men of the finest character. It allows them to find their own Masonic satisfaction and through their personal endeavors, the tapestry becomes stronger and more beautiful. Individualism is the model of Masonic operation which concerns each individual Mason and improves the fraternity through each member's personal evolution.
Men have been taught that it is a virtue to agree with others. But the creator is the man who disagrees. Men have been taught that it is a virtue to swim with the current. But the creator is the man who goes against the current. Men have been taught that it is a virtue to stand together. But the creator is the man who stands alone.
Howard Roark in The Fountainhead by Ayn Rand
1. http://dictionary.reference.com/