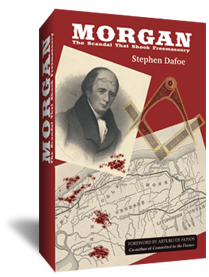 American history is intricately tied to the history of Freemasonry.  One such crossroad was the Anti-Masonic Party that dominated early American politics between 1827 and 1838.  But where did the Anti-Masonic party find its inspiration?  When you dig into the shadows and rumors of the past the answers start to take shape in a jig-saw puzzle of post colonial American life.  And in those hidden recesses, the real story starts to emerge.
Missed the Live Program?  Listen NOW!

Important to say is this early political party did not form out of a passing distrust of Freemasonry, but rather from a tragedy that is today known as The Morgan Affair.  And at the center, William Morgan, was a man of many trades with a reputation that preceded him, and it is from that reputation that the door of Masonry was darkened. What led up to the Morgan Affair necessitates us to answer the question: "Was William Morgan Murdered by Masons?" The question is an important one, as in the years following his death American Masonry plummeted nearly to extinction because of his mysterious disappearance.   A disappearance that is still today made reference to in conspiracy circles around the world.
Join us this Sunday as we talk with Stephen Dafoe, the author of the new book Morgan: The Scandal That Shook Freemasonry as we explore the Masonic cold case murder of William Morgan and explore the "who, what, and why" of this tragic (and momentous) event that became a fire brand to the fraternity and the rally cry to the Anti Masonic Party.
This is a special hour and a half long program on Masonic Central on Sunday June 14th at 6pm PST/9pm EST to explore the depths of this dark day in Masonic history and its effects on the American political landscape in the fledgling Democracy.   In the last half hour we will open a segment for your questions and comments to the author live on the air.  To ask your questions call: (347) 677-0936 during the program.
The program starts at 6pm PST/9pm EST Sunday June 14th.