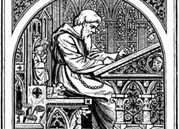 Ever stop to think for a few moments where some of your favorite Masonic books and imprints come from?  Or how certain books get published (or don't end up in print)?  What about e-books, or that really rare hard to find text that you heard mentioned once, but can't seem to find?
This week on Masonic Central we step out side of the electronic publishing world and into the traditional publishing one as we host a very special guest in publisher and author Michael Poll, who is the owner of Cornerstone Book Publishers and its retail site Lost Word.
Missed the live show?  Listen Now!
Br. Michael's dedicated work to the Masonic community has included services such as: original content and reprint publisher, used book seller and search service, and gift item and ephemera supplier, all the while remaining a small family run store.  In addition to his work in publishing Masonic books, he has published two of his own including Masonic Words and Phrases
, and The Freemasons Key – A Study of Masonic Symbolism
.
In addition to several lodge memberships, Michael is also a Founding Fellow and 1st Vice-President of The Masonic Society, a Fellow of the Philalethes Society and a contributor to Heredom, the publication of the Scottish Rite Research Society.
Join us as we meet and talk to Br. Michael Poll this Sunday, December 6th, starting at 6pm PDT / 9pm EST. We encourage your questions and comments to the show by calling (347) 677-0936 during the program.
The show goes live promptly at the hour. On Blog Talk Radio at 6pm PST/9pm EST.